Hall of Fame Inductees
---
Below is a list of all our inductees. You can narrow the list to a specific year by choosing one of the dropdown options below.
( * by an inductee's name indicates deceased)
Choose A Year:
---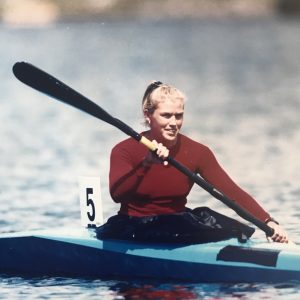 Leslie Ann Young
- 2022 -
Athlete - Canoe/Kayak
Leslie Ann Young is one of Nova Scotia's most decorated paddlers! Leslie Ann 's first strokes with a paddle were taken on the waters of First Lake in Lower Sackville at the Sack-a-Wa Canoe Club in 1980, the first year for the club..
Leslie Ann paddled through several successful years, spanning from 1985 to 1995 at the provincial, national and international levels. A longtime member of Canada's National Team, Leslie Ann has represented Canada at the Junior and Senior World Championships. A silver medalist at the Pan American Championships, a gold and double bronze medalist at the Junior Western European Championships. Leslie Ann was named top female athlete at the 1988 Pan American Canoe Championships and has won numerous medals at Elite European Regattas. The highlight was being named to Canada's 1992 Olympic Team. Also in 1992 she was named Nova Scotia's Female Athlete of the year! In her athletic travels she has met world leaders such as Fidel Castro and Queen Elizabeth II.
Following an extensive and successful athletic career, she has given back to her sport as a volunteer at the provincial, national and international levels. She coached for many years and was named Volunteer of the Year for Maskwa Canoe Club in 2012.
Leslie Ann sat on the board of Canoe Kayak Atlantic Division, served as co-chair of the National Championships in 2016, the Pan American Championships in 2018 and chaired an Alumni Council for Canoe Kayak Canada. Her proudest achievement as a volunteer was serving on the committee that won a prestigious International bid to host the 2022 World Championships in Dartmouth, Nova Scotia.
Leslie Ann values the lessons the sport has taught her and the opportunities that occurred because of her involvement. These memories will last a lifetime. "I was able to experience years of success in sport because of the community around me… my coaches, my teachers and my community leaders. Many thanks"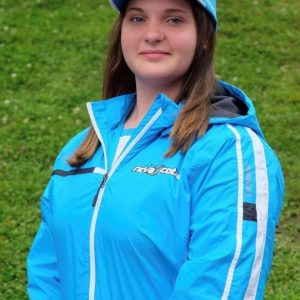 Hannah Hubley
- 2022 -
Athlete - Wrestling
Hannah Hubley started wrestling at 12 years old, grade 7 and had her last year of wrestling when she was 17 years old, grade 12, 2019. Those years are years that she would never give back, as they were amazing.
A saying I will always believe is "Repetition is the Mother of Perfection", meaning the more you do things the better you become, which is how I lived my wrestling career. Following this saying, I have achieved many things and that is how my success was born.
"Medals are earned at practice and just picked up at tournaments" I have worked and earned gold medals each year at Regionals, Atlantic's, Provincials, Nova Scotia Open, and many other tournaments, but I have 3 different tournaments and 4 medals I have earned that mean the most.
In 2017, I was 15 years old and worked hard, stayed dedicated and earned a gold medal at the Cadet/Juvenile National Championships. In 2016, as a 14 year old, our team attended the Gotham City International Girls Open tournament in New York City where I earned silver in my age class and fourth place in the adult age class.
Three years later in 2019 as a 17-year-old our team went back and I earned another international silver medal. Finally, Canada Games of 2017. It was an amazing experience and I am so happy I got to do it. I am glad to be able to say I am a bronze medallist of Canada Games. It was a lot of work but with the help of my family, fellow wrestlers, and my coaches, I was able to achieve all these things.
My coaches Mike Lidstone and Rory Fraser. They put their hearts into making every day of wrestling count. Words can't even describe how great my coaches are we all appreciate everything they have done and do, for me and our wrestling family.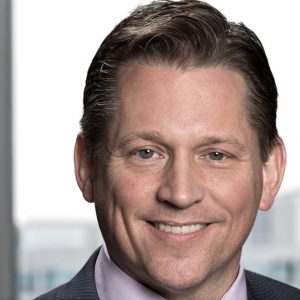 Derrick Dempster
- 2022 -
Athlete - Track and Field
Joining the Chebucto Athletics Club was an easy decision for Derrick. His older brother Darrell was a former athlete and coach at the club for years. Derrick was also influenced by the legendary coach Doug Mitchell, his math teacher at AJ Smeltzer Junior High School.
Derrick's sprinting career spanned ten years from 1983 to 1993. He was a ten-time NSSAF Provincial High School Champion in the 100m and 200m, won fourteen medals at National Championships, attended the Canada Summer Games on three occasions, and represented Canada at the World Junior Championships in 1986.
The accomplishment that Derrick is most proud of is earning a scholarship to attend Simon Fraser University in 1988 where he competed in the National Association of Intercollegiate Athletics. In 1993, Derrick's athletic career ended, his last competition being the Canada Summer Games. The competition was in August.
Derrick began his coaching career in September, assuming coaching responsibilities at Chebucto. He is proud of his athletic accomplishments, but more proud of his coaching accomplishments. Derrick coached athletes to five medals at National Age Class Championships, a gold and bronze medal at the National University Championships, a two-time Athletics Nova Scotia Coach of the Year, and Sport Nova Scotia Coach of the Year Runner-up in 2002.
Derrick's most impressive accomplishment as a coach occurred in 2001 when he coached all four members of the 4x100m men's relay team that represented Nova Scotia at the Canada Summer Games. The team won gold at those games, a feat nobody thought possible.
Derrick is thankful for the friendships that he has enjoyed through sport. He is most thankful for the mentor-ship of his two biggest role models, coach Doug Mitchell and brother Darrell. None of his accomplishments as an athlete or a coach would have been possible without their support.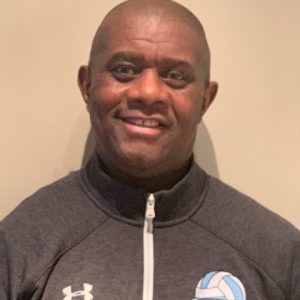 Derrick Brooks
- 2022 -
Builder - Volleyball
Derrick Brooks has been a dedicated leader in the volleyball community for decades, not only in Sackville but across Nova Scotia. Derrick fell in love with volleyball when he was introduced to the sport as a high school athlete and hasn't looked back since. Since then, he has been involved in every aspect of the sport from a builder, to a coach and official. An NCCP Certified Advanced Development Coach and a NCCP Trained Performance Coach, he has seen success at the community, provincial and university levels. A Certified Level 4 Indoor Volleyball Official who officiates at the national level, Derrick has also made an impact as one of the province's most respected officials.
In 2001, Derrick founded the Sackville Sonics Volleyball Club, which introduced volleyball to many children in Sackville. In the last two decades, the Sackville Sonics club has grown to be one of the larger volleyball clubs in HRM, annually fielding six to eight teams at several age levels. This gives hundreds of children the opportunity to play volleyball. Derrick is the Club Director and he also coaches a team each season. With a goal of developing players and preparing them to play at the university level, he has coached teams from 13U to 18U.
His coaching career doesn't end in club volleyball, though. Derrick also coached for over a decade at Sackville High School, where he built a very successful program that won numerous regional championships and produced many post-secondary student-athletes. He also has experience coaching at the provincial level through Volleyball Nova Scotia, where he has led multiple teams to earn medals at Eastern Elite Championships.
For the past 12 years, Derrick has been the head coach of the women's volleyball team at Mount Saint Vincent University. His accomplishments at the university level have been nothing short of remarkable. In his time at MSVU, Derrick has built a highly respected program that has won nine Atlantic College Athletic Association (ACAA) championships. Derrick has been named the ACAA Coach of the Year six times, has coached his teams at nine Canadian College Athletic Association (CCAA) national championships and, in 2014, was recognized as CCAA Coach of the Year.
Over the years, Derrick has motivated, inspired and uplifted a countless number of athletes of all abilities and ages. But, in his own words— "It's not how you start, it's how you finish."