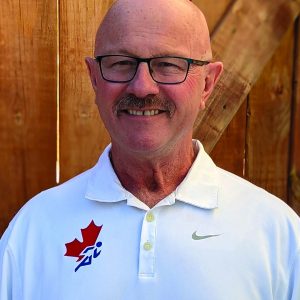 Stephen Lane
- 2021 -
Athlete - Official - Track and Field
Stephen Lane has been a pillar of the Sackville sports community for decades. Most notably, Stephen has been recognized as one of the top Track and Field officials in the country. Stephen, an accomplished athlete, has selflessly dedicated his time and talents to the community through coaching, volunteering and officiating.
Growing up in a large family of athletes, it did not take long for Stephen to jump in with both feet. From the time he was a young child until well into his retirement, Stephen has been promoting and encouraging people of all ages and abilities to engage in sports.
Stephen began officiating Track and Field in 1980 when he was only 21 years old. Through his dedication and determination, he was qualified as a Level 5 Official, the highest level that can be attained in the sport.
During this time, Stephen played Football for Saint Mary's University, holding the distinction of being the first player from Sackville High School to play for the University. He received a Letter of Merit and the Alumni Award for his involvement.
Over the years Stephen was invited to officiate at hundreds of track and field meets including numerous local, Provincial, Regional, International and World championships, World University Games, Pan-American Wheelchair Games, 4 Olympic trials, 3 Canada Games, 2 World Junior's, 10 National Championships, 8 Highland Games, Atlantic Indoor Championships and the North American, Central American and Caribbean World Masters Athletics Championships. He officiated for the Nova Scotia Special Olympics for 21 years and spent several years as Vice Chairman of Technical and Rules for the National Officials Committee.
Stephen has been the recipient of multiple awards for his community involvement including the Nova Scotia Track Official of the Year. His contribution to the community has been immeasurable. Through more than 5 decades of involvement in the sports community, Stephen has been a role model and an inspiration for us all.