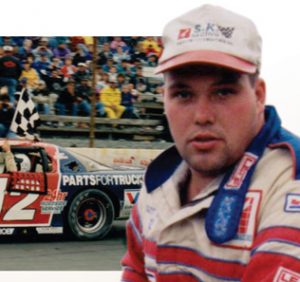 Scott Edward Kelly
*
- 2004 -
Athlete - Auto Racing
Little did Scott Edward Kelly realize as a 16-year-old the imprint he would leave on the Sackville region when he determined auto racing would be his life's ambition.
When cancer took him all too soon at age 28 in May 1999, Kelly left a legacy that his peers and other home-grown stock car drivers would pursue as a benchmark for success.
Friends and competitors alike agree Kelly had a special talent all world-class race car drivers embrace, an ability that can't be taught but honed only through experience – the capacity to foresee impending dangers on the track and the ability to take advantage of the situation to improve his position in a race.
"He was really good in heavy traffic," says his father, Lewis (Junior) Kelly, himself a top race-car driver at Nova Scotia tracks before retiring to become crew chief for his son's MASCAR racing team. "He was able to perceive what was happening on the track before it happened."
Scott Kelly achieved a number of awards and firsts throughout a career packed with excitement. But the peak of his racing exploits was probably his third-place finish at the Oxford 250 in Maine in 1996, a race he led with two laps to go.
"We may have lost that race for him in the pits," says Junior Kelly. "All he had to do was run along side one of the other cars on the track to hold up the two cars behind him. But I guess that's 20-20 hindsight."
Scott Kelly was a champion wherever he performed in the Maritimes, on sprint tacks and road courses, from Halifax to Truro, to Antigonish to Sydney, from Oyster Bridge in P.E.I. to New Brunswick Geary (Fredericton), Shediac, Riverglade and Miramichi speedways.
In 1998, Scott Kelly's peers presented him with a special award for perseverance and the portrait of a true racing spirit.