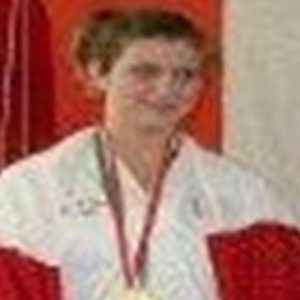 Sarah Bray
- 2007 -
Athlete - Taekwon-Do
Sarah Bray may have sparred her way out of local competitions through lack of competitions, but she has a brilliant future at international Taekwon-Do meets.
The holder of Second Degree black belt, Bray has become an international star in the martial arts competitions since winning the 2004 World Junior championship in sparring. She is one of six female national team members and has represented Canada as both an individual performer and team competitor.
At the 2004 World's, Bray was one of six members of the Canadian female team that won three bronze medals (sparring, team pattern and team special technique or board breaking), helping the national team to finish in second place overall.
Sarah, 21, was named to the national senior team in 2005 but had to decline because of previous commitments. She was unable to join the senior squad again this year due to injuries.
At the International General Choi's Cup in 2002 and 2003, she won two gold medals in sparring, a bronze and a gold in patterns. At North American championships, she's won two gold medals in sparring and one gold for patterns.
In national competition, the Lower Sackville native has had an eclectic career. She's the defending champion in sparring, an event she's won gold three times (to go along with a silver medal) in the last five years. She was a gold medalist in sparing at the 2005 Can-Am competition and won two golds in sparring and gold in patterns at the 2006 Master of the Arts tournament.
If competing wasn't enough, Sarah coached the Dave Hiltz team at the 2005 nationals in Edmonton.