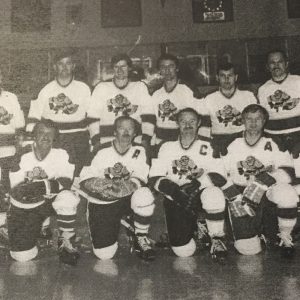 Sackville Scooters
- 2002 -
Team - Hockey
It started as a traveling road show, but the Sackville Scooters oldtimers hockey team soon developed a serious lifeline to the community.
The Scooters have spent more than two decades traveling around the Maritimes as goodwill ambassadors and fund-raising for numerous local causes, particularly projects initiated by LDRA (Lake District Recreation Association).
A meeting in 1980 between Fred Grace and LDRA's George Matthews spearheaded the establishment of the Scooters who, as a group, have turned some $200,000 over to community projects.
"We don't have the exact figures in our hands, but . . . $200,000 sounds pretty impressive," says John Doyle, Scooters treasurer and the only charter member of the team still campaigning on the eve of the team's induction into the Sackville Sports Hall of Fame.
The Scooters-LDRA relationship began with players looking after LDRA's Bonanza Bingo. That project and other bingo-related events proved profitable to both groups. The Scooters decided they would funnel their profits back into community facilities such as minor athletic programs and recreation fields.
Their first undertaking – installing bleacher stands at the Community Arena in 1980-81 – carried a $24,000 price tag plus a $7,800 donation to minor hockey. Another arena renovation undertaken by the Scooters included renovating the mezzanine area of the arena in 1986 at a cost of $10,000 plus another $8,000 contribution to minor hockey.
Another ambitious venture included the purchase of a bus to transport the team to its out-of-town engagements. That was in 1983 and the next five years saw their coffers depleted as Scooters carried Sackville organizations – minor sports groups such as the Junior B Sackville Blazers, Triple A midget hockey teams, majorettes, service clubs, fire fighters – all across the Maritimes.
The bus project was scrapped when a $10,000 cost to replace a blown engine was factored into the annual costs or continuing the service.
The Scooters charity to the community didn't stop along with the bus ride, however. Their contributions include kitchen equipment for the Springfield Lake Recreation Centre, $25,000 donated to the Sackville Sports Stadium and another $15,000 toward heating the Stadium dressing rooms.
Despite more than two decades of giving back to the Sackville region, there hasn't been much in the way of openings on the team roster. Only 55 players have worn the Scooter sweaters over the years and more than 40 attended the Induction ceremonies.