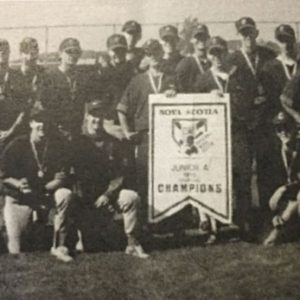 Sackville Chiefs
- 2012 -
Team - Baseball
The measure of success of a minor league sports organization can be measured by it's achievements over a period of time.
The Sackville Chiefs baseball team of the '90s was just such a group, spawning so many perennial contenders at various levels of the sport it would be difficult not to see them as a team of destiny.
The Chiefs began making noises beyond the Sackville region before the '90s, but it was the consistent performances of those halcyon years that finds them being honoured here this evening.
The organization was a provincial power, a perennial threat in the provincial playdowns, winning three consecutive midget crowns 1991, '92 and '93, and represented the Atlantic region at the national Midget A championships in Trois-Riveres, Que., (1992) and at Tignish, P.E.I. in 1993.
Many of those midget players made the leap to Junior A and won three provincial titles ('94-'96), a string of successes that included an Atlantic crown in '94, before making their mark in senior ball where the Chiefs enjoyed a successful run from 1995 to 2007.
Two of the program's alumnae – Jamie Vallis and Trevor Wamback – were major league draft picks, seven others attended U.S. junior college programs, three were named to the Nova Scotia Canada Games team and seven were chosen for the Nova Scotia midget select team.