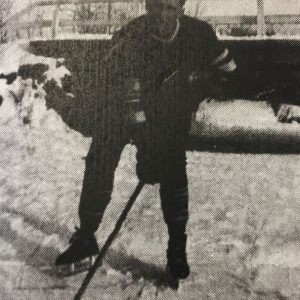 Robert Douglas Peverill
- 2002 -
Athlete - Hockey, Softball, Baseball
Doug Peverill was arguably one of the finest athletes to represent Canada in hockey, softball and baseball.
Born May 18, 1922, Doug left us all too soon with his death in April 1966 at the age of 43.
Among his peers, Peverill was best known for his hockey skills. But major league baseball sensed enough all-round athleticism to have him scouted and he made his mark on Halifax-area softball circles with such outstanding teams as Halifax Olands, Shipyards and Reliable.
Peverill was a standout in several sports but what defined his athletic talents was his ability to always play the game in control, whether it was eluding an opposing goaltender or defenceman or waiting for just the right moment to snag a baseball.
"If I had to sum up Doug in a word, it would be 'Gentleman,'" said long-time Suburban Hockey League rival Bob McDonald. "You always had to be careful of two or three guys from those teams with their hooking and holding, but Doug didn't play that way… Always the gentleman."
An institution with the Acadian hockey team, Peverill was instrumental in bringing the Halifax Suburban league title to Sackville in 1940. "He won more MVP (most valuable player) awards in those days than my 78-year-old mind can recall," said former teammate Eugene Roberts.
Peverill declined an invitation to attend a major league baseball training camp but left and indelible mark on local softball and fastball circles while helping his team to several city and provincial titles.