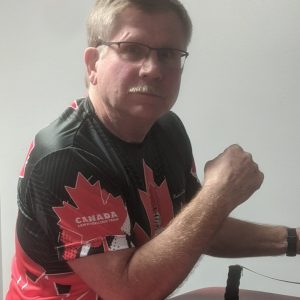 Rick Pinkney
- 2021 -
Athlete - Arm Wrestling
Rick Pinkney took up arm wrestling in 1980 while working in Alberta. Alberta was the hot spot in Canada for Arm Wrestling and as a result had the opportunity to train with the best in the country.
Rick won his first National title in 1982 and then went on to pick up a Silver medal at the World Championships in Syracuse, NY.
Rick moved back to Nova Scotia in 1984 and started the Nova Scotia Arm Wrestling Association. Over the next 20 years Pinkney picked up 13 Provincial titles in 5 different weight categories. He also won the Atlantic Canadian Championships 6 times and added 4 more National titles, with the last coming in 2005.
In 1994 Rick held the Canadian Championships in Halifax. This was the first time it was held east of Quebec. He hosted them again in 2017.
Rick's next Canadian title would elude him until he won in 199 in Kelowna, BC. Then in 1998 Rick took a Silver at the Canadian Nationals and he picked up a Silver medal at the World Championships in Thunder Bay, Ontario, finishing behind long time rival, Canadian Michael Barrett.
Rick was also heavily involved in developing referee training in Canada and throughout the World. He was appointed Referee-in- Chief of Canada in 1992. He received his Masters in Refereeing for Canada in 1994 and for the World Federation in 2002.
Rick has refereed every World Championship since 2002.  He is also a Master Referee for the International Federation of Arm Wrestling and the Professional Arm Wrestling League and sits on the Referee Panel for both organizations.
Rick has been President of the Nova Scotia Arm Wrestling Association since it's inception in 1985.   In 2014 Pinkney stepped down as Referee-in-Chief of the Canadian Arm Wrestling Federation to become President of the Federation.
Rick is also a coach for the Sackville Warriors Arm Wrestling Team. He was inducted into the Canadian Arm Wrestling Hall of Fame in 2009 and the Nova Scotia Arm Wrestling Hall of Fame in 2015.