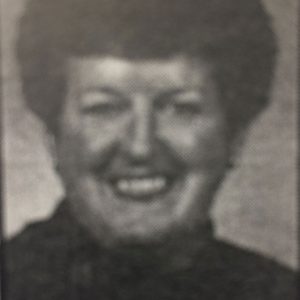 Pauline Stanick
- 2003 -
Builder - Softball, Ringette, Hockey
Pauline Stanick's organization and administrative skills over some 40 years earned her a place in the Sackville Sports Hall of Fame.
Pauline played many sports as a youngster, among them softball, fastball and ringette, but the coaching and ability to bring to fruition programs that benefited the youth of the community earned her a spot in the Hall.
A founding member of LDRA (Lake District Recreation Association) in 1971, she was a member of that organization for more than 20 years and was an active fund raiser that led to construction of the Sackville Community Arena along with several other recreation projects.
She helped organize girls softball in the Sackvilles (1972), a women's softball league for Sackville and the surrounding areas (1975), was involved with girls' ringette (1974-90) and was instrumental in bringing about a women's ringette league in Sackville that led to the creation of an organization that included teams from Cole Harbour and Canning.
Pauline was secretary of the Sackville Minor Hockey Association (1972-80) and was a director with Ringette Nova Scotia where she undertook several tasks including transportation chair for the 1980 Canadian championships.
She spent 18 years as a coach and referee in ringette, was Chairwoman of Ringette Nova Scotia (1980) and managed the Nova Scotia Belles entry at the first national ringette championship (1978).
Pauline has been on the receiving side of a number of awards, among them the CAHA Award of Merit (1981) from the Nova Scotia Minor Hockey Council, Volunteer Appreciation Certificate from Ringette Nova Scotia (1996), Sackville Volunteer of the Year (1995) and was nominated for Volunteer of the Year by Blue Line Hockey Magazine (1985) and the YWCA Recognition of Women Award (1986).