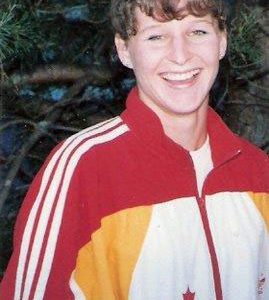 Nicole Gillis
*
- 2006 -
Athlete - Track and Field
Her grandfather was a sprinter. Her father was a sprinter. It was only natural that Nicole Gillis would be a sprinter.
Considered an enormous all-round athlete during her years at Leslie Thomas Junior High and Sackville High, Nicole emerged as a world-class sprinter at Chebucto Track and Field club in the mid-1980s under the tutelage of veteran coach Darrell Dempster.
The knowledge she gained and the experiences she encountered with Chebucto would, over the next years, benefit her many times over at the national and international levels of the sport.
Her sprints, at the 100 and 200-metre distances in the 1980s, would become great moral boosters for the training and development of Sackville area track and field talents, initially at the local level but eventually garner attention at the provincial and national meets as Chebucto's programs began to attract attention.
"She had a great natural talent," admits her father, Archie, a former president of the Chebucto organization. "But it required hard training and a work ethic to achieve that success. The Chebucto club encouraged a lot of young people in the sport to compete at a higher level."
Nicole's early successes at the provincial championships, including becoming the first Nova Scotia 16-year-old female to crack the 12-second barrier breaking the age standard established by former Olympian Celia Branch, would be forerunners of a bright future.
She went on to establish sprint marks throughout provincial and Atlantic meets in various age categories, placing at or near the top in numerous national competitions and capping a junior career that saw her bring home the 100-metre gold from the 1988 Canadian track and field championships in Edmonton.
Nicole enjoyed many successes through the years, many of them as a member of the National Junior track team for several years and as a member of the Canadian team at the World Junior Championships in 1988.
She subsequently pursued studies in kinetics, first at Dalhousie then on a scholarship program that took her to Simon Fraser University and West Coast College in B.C.