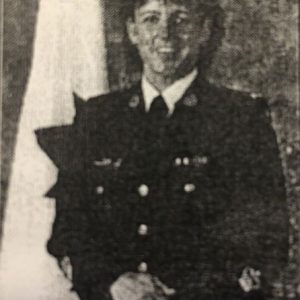 Lisa (Carberry) Rowe
- 2005 -
Athlete - Softball, Hockey, Soccer, Broomball
The path Lisa (Carberry) Rowe chose to take in life is what many young girls aspire to. But few have the resolve to follow those dreams.
Lisa's athleticism in all facets of sport earned her early recognition, first in the Caudle Park neighbourhood of Sackville where she grew up, and later at Sackville High where she was a member of the Atlantic regional soccer champions, established provincial records in track and field and was named Female Athlete of the Year by the Nova Scotia Track and Field Association and Sackville High.
Some 20 years in the future – Oct. 16, 2004, to be more exact – she would be inducted into the Canadian Armed Forces Sports Honour Roll, a success story that carries with it the mark of a true champion..
Lisa's passion for sports covered a broad spectrum of events, including four years in Germany where she and her husband were posted in 1985 and where she re-invented her enthusiasm for competitive sports while playing softball and hockey with Canadian women's forces teams.
On their return to Canada in 1989, Lisa enlisted full time in the Canadian Reserve Force and launched a sports career that would net her numerous rewards, including 20 Canadian Forces national team competitions that resulted in seven gold medals and eight silvers in softball, hockey, soccer and broomball.
Her list of individual national honours is equally remarkable; three MVP awards in softball, seven all-star selections (three as a broomball defender), and four times as an all-star pitcher. Twenty regional team competitions earned her another 10 gold and eight silver medals.