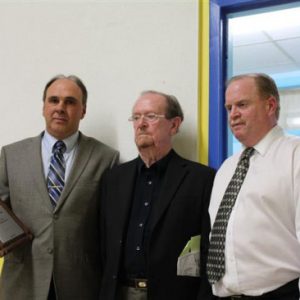 Larry Marchand
- 2013 -
Builder - Hockey
Wherever Larry Marchand takes his Millwood Knights high school hockey team, success is almost guaranteed to follow.
It's 16 years and counting since Marchand was named the Knights head coach during which his teams have won four provincial titles and have reached the Nova Scotia high school championship round 10 straight years. In the last two seasons the Knights have lost just four of 58 games.
Six years the school has been in the championship final game.
Larry started coaching in minor league hockey at the grass-roots level with five-year olds and worked his way through the rankings for 14 years, enjoying a modicum of successes, until being recruited by the Knights.
Millwood's best season is also being celebrated this evening as the 2010-11 team is being inducted into the Sackville Sports Hall of Fame after a phenomenal year in which the Knights won the Metro high school standings, the Capital Region standings and Nova Scotia title.
Among their many successes that year was winning the Moncton High School Classic, the first team from outside New Brunswick to win that tournament in 18 years. All in all, the Knights—with Marchand guiding their progress—won six tournaments in 2010-11, most without suffering a loss.