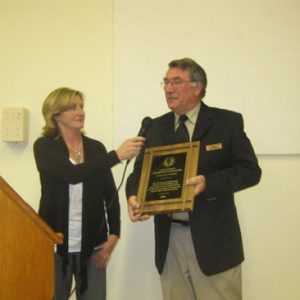 Lake District Recreation Association
- 2009 -
Builder - Hockey, Gymnastics
The LDRA was formed in 1971 for the purpose of providing recreation services, programs and facilities to the Sackville-Beaver Bank area.
Its goals: to enable residents easy access to leisure and recreation facilities in the community; construct, equip, operate and maintain these facilities; promote, organize, sponsor, encourage and support recreational activities; and develop, manage and maintain funding to support these activities.
In the ensuing 38 years, LDRA and its volunteer board of directors has more than fulfilled its pledges to the community, its most recent signature accomplishment being a multi-million dollar addition to the Sackville Sports Stadium in the early 2000s.
LDRA was unable to uphold a management agreement with Halifax Regional Municipality to make the Stadium 100 per cent cost recovery and HRM withdrew from the agreement in August 2003 and now operates the facility.
The association continues to operate the many projects it undertook from its inception, among them the Sackville Community Arena, Metropolitan Field and the Leisure Centre. The latter was built in 1988 as a business project by LDRA with the express purpose of enabling charitable groups in the community to conduct weekly bingo as a fund-raiser.
Over the years, the Sackville Bingo Centre has spawned numerous projects initiated by, among others, the Sackville Lions Club, Sackville Kiwanis Club, Citadel boxing club, Taiso gymnastics (which occupies the top floor of the Leisure building), Riverview Community Centre and the Sackville Legion (Calais Branch).