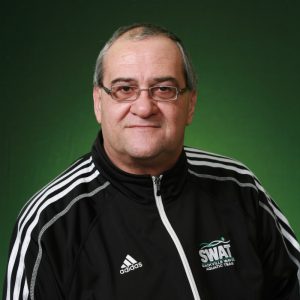 Kevin Ross
- 2021 -
Athlete - Coach - Swimming
"Dare to Be Awesome!" the slogan Kevin Ross imparted upon all of his swimmers.
If you have been by the pool at the Sackville Sports Stadium anytime over the past 24 years, there's a good chance you saw Kevin on the pool deck.
Kevin started his coaching career as a coach for both Dartmouth and Halifax. In February of 1997 he was asked to coach both the Master's program at the Sackville Sports Stadium as well as Sackville Waves Aquatic Team where he would act as the teams' head coach for the next 20 years.
Over that time Kevin helped turn thousands of youngsters into great swimmers. Even more importantly he hoped to have a part in turning them into better citizens. He knew when to be hard on the swimmers and when to take it easy on them. He never forgot that swimming was supposed to be "fun" and made sure everyone had just that.
He also knew that swimming was extremely important to many and his goal was to provide a program for all individuals to be challenged to do their best.
Over the next two decades Kevin became a world class coach. He became one of the leading Para swimming coaches in the country coaching on several national teams. He coached swimmers to Olympic Trials, Para Pan Am Games, Para World Championships and even the pinnacle of accomplishments when Daniel Murphy competed at the 2016 Paralympic Games in Rio.
Accomplishments:
Manager 2001 N.S. Canada Games Team
Coach International Children's Games in 2004, 2006, 2008, 2009, 2011, 2012 and 2013 – Coach 2005 N.S. Canada Games Team
Coach 2009 Para World Short Course Championships, Rio
Coach 2013 Para World Championships, Montreal
Coach 2015 Para Pan Am Games, Toronto
Won N.S. Para Coach of the Year 5 times
Won the Swim N.S. President's Award in 2015
Coached 2017 World Masters Championships (Gold medal)