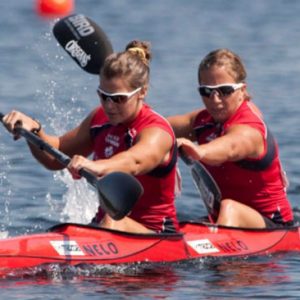 Jillian D'Alessio
- 2011 -
Athlete - Kayaking
One of Canada's most decorated paddlers, Jillian D'Alessio continues to make her mark on the national and international stages.
The Middle Sackville resident enters the Sackville Sports Hall of Fame in 2011 fresh off another multi-medal performance at the Canadian national championship where she won three gold and two bronze.
The high profile sprint kayaker has been representing the Sackville community for neatly two decades and has been a member of Canadian teams at Olympics, Pan American Games and World Cup events as well as the tough European Tour competitions.
Competing at distances between 200 and 1,000 metres in singles, tandem and quads, Jillian has amassed more than 30 medals against the world's best paddlers while campaigning abroad and 50-plus medals at Canadian events alone, establishing her as one of the sport's outstanding individual performers in Canada.
She's been named Nova Scotia's Athlete of the Month on several occasions and in 2009 was nominated as Nova Scotia's Athlete of the Year and also to the Team of the Year.
In addition to her success on the water, Jillian uses her personal achievements to work within the community. Most recently she was invited to MC the RBC Amazing Chase held in Moncton, N.B., in support of SIDA/AIDS, a day-long six-team event in which competitors faced a series of challenges through Moncton, Dieppe and Riverview.
She has also competed in the Terry Fox Run, Dragon boat races in support of Cystic Fibrosis research.