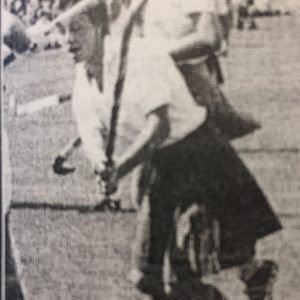 Jeri (Sharkey) Hennigar
- 2005 -
Athlete - Field Hockey, Volleyball, Broomball, Softball
Jeri (Sharkey) Hennigar was an outstanding all-round athlete growing up in Sackville, but more than that she was a role model for younger female athletes that followed.
Her track mentor, Doug Mitchell, recalls Jeri taking the lead throughout her many faceted career in bringing attention to female athletics in the community through her enthusiasm and passion to compete at a high level in whatever sport she played.
This desire to challenge was never more evident than at Sackville High in 1973 – the year the school opened – where, restricted by school policy to three sports for the year, two at any one time, the freshman made every school team she tried out for. After the field hockey squad's season ended, Jeri joined the school's volleyball team, which had advanced in the provincial playoff rounds.
Jeri earned MVP honours for the school's broomball team three times and in 1976 (her graduating year) was named Sackville High's Female Athlete of the Year and was awarded the Silver S, which recognized her contribution to the school's athletic programs.
She represented Nova Scotia in field hockey twice at the national level – the 1977 Canada Summer Games team that took silver after losing the final to Ontario 1-0, and at the senior championships.
Softball became Jeri's sport of choice in the 1980s and her Halifax Carlsburg team won the 1984 Eastern Canadian women's fastball championship.