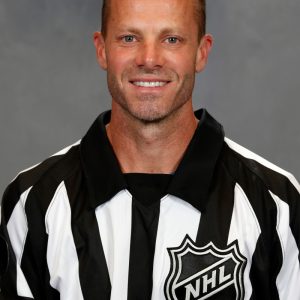 Gord Dwyer
- 2023 -
Athlete - Official - Hockey
Gord Dwyer was born and raised in Lower Sackville, playing his entire amateur hockey career in Sackville, from Sackville Flyers Minor Hockey to Sackville High Kingfishers and eventually the Sackville Jr. B Blazers. Along Gord's hockey journey he developed a passion for all facets of the game, from playing, to coaching, teaching power skating and helping to organize youth ice and roller hockey leagues.
At age 14, Gord began officiating with Sackville Minor Hockey and quickly found success wearing the orange arm bands. Although his passion for playing never ceased, it was officiating where his success started to show. He worked his way up through the amateur ranks refereeing minor, junior, CIS and eventually landing in the Quebec Major Junior Hockey League. In 2001, Gord's sights turned to pro hockey and he moved to Amarillo, Texas to referee in the Central Hockey League.
In 2003, the National Hockey League came knocking and he was hired to a minor league contract to hone his skills in the American Hockey League. After three seasons in the AHL, at age 29, Gord was promoted to a full time NHL referee. Some of Gord's career highlights include: his first NHL game on CBC's Hockey Night in Canada November 19th 2005; his first playoff game April 16th 2014; refereed World Cup of Hockey 2016, Stadium Series 2015, Heritage Classic 2016, Winter Classic 2018, All Star Game 2022, Stanley Cup Finals 2019, 2021, 2022.
Gord, who wears #19, officiated his 1,000th NHL game March 7th 2020, and to date has refereed over 1,200 regular season games and over 100 playoff games. Gord, still a proud 'Bluenoser', now resides in Dallas, Texas with his wife Alexis and children Bishop and Presley. He continues to give back to hockey by contributing at local officiating seminars, as well as coaching at the minor hockey league level.