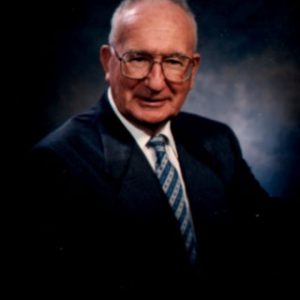 George H. Matthews
*
- 2011 -
Builder - Track and Field, Baseball
When talk gets around about any of the major recreational projects and fund-raising programs that make the Sackville a must-see place to bring up their families, George H. Matthews' name is right at the top of community giving.
Much of the building and recreational programs in the region were initiated by Matthews through the Lake District Recreation Association, a group that was established in 1971 to provide organization to the various groups working on assorted programs throughout the Sackville area.
As LDRA secretary for the first three years and a decade as president, Matthews guided the association through some crucial periods that included hiring the association's first executive director (Carol Brasok), the building of the Sackville Community Arena and Metropolitan Field, arguably the finest track and field facility in the Atlantic Provinces.
These events were followed in the early 1980s by the opening of the Leisure Centre on the shores of First Lake next to the Arena, a bingo facility that continues to provide financing for Sackville's recreation programs, among them such baseball fields as Eddie LeBlanc, off First Lake Drive; the Cobequid Field, equipped with lights (near Cobequid Road and Glendale Drive) and the Lions Park beside the Lions Den on Old Beaver Bank Road.