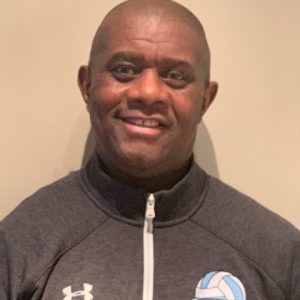 Derrick Brooks
- 2022 -
Builder - Volleyball
Derrick Brooks has been a dedicated leader in the volleyball community for decades, not only in Sackville but across Nova Scotia. Derrick fell in love with volleyball when he was introduced to the sport as a high school athlete and hasn't looked back since. Since then, he has been involved in every aspect of the sport from a builder, to a coach and official. An NCCP Certified Advanced Development Coach and a NCCP Trained Performance Coach, he has seen success at the community, provincial and university levels. A Certified Level 4 Indoor Volleyball Official who officiates at the national level, Derrick has also made an impact as one of the province's most respected officials.
In 2001, Derrick founded the Sackville Sonics Volleyball Club, which introduced volleyball to many children in Sackville. In the last two decades, the Sackville Sonics club has grown to be one of the larger volleyball clubs in HRM, annually fielding six to eight teams at several age levels. This gives hundreds of children the opportunity to play volleyball. Derrick is the Club Director and he also coaches a team each season. With a goal of developing players and preparing them to play at the university level, he has coached teams from 13U to 18U.
His coaching career doesn't end in club volleyball, though. Derrick also coached for over a decade at Sackville High School, where he built a very successful program that won numerous regional championships and produced many post-secondary student-athletes. He also has experience coaching at the provincial level through Volleyball Nova Scotia, where he has led multiple teams to earn medals at Eastern Elite Championships.
For the past 12 years, Derrick has been the head coach of the women's volleyball team at Mount Saint Vincent University. His accomplishments at the university level have been nothing short of remarkable. In his time at MSVU, Derrick has built a highly respected program that has won nine Atlantic College Athletic Association (ACAA) championships. Derrick has been named the ACAA Coach of the Year six times, has coached his teams at nine Canadian College Athletic Association (CCAA) national championships and, in 2014, was recognized as CCAA Coach of the Year.
Over the years, Derrick has motivated, inspired and uplifted a countless number of athletes of all abilities and ages. But, in his own words— "It's not how you start, it's how you finish."