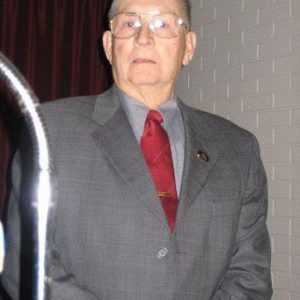 David Pinkney
*
- 2006 -
Athlete - Horse Racing
Stanbdardbred racing and Sackville were at one time synonymous in Maritime sporting annals, One rarely mentioned without the other.
The same was said of David Pinkney, the Yarmouth-born driver/trainer who was inducted into the Canadian Horse Racing Hall of Fame in 2001. Sackville Downs and Dave Pinkney were nearly always mentioned in the same breath.
Pinkney's induction into the Sackville Sports Hall of Fame was inevitable considering the esteem in which he's held by the Canadian standardbred industry and the records he established in a glittering career that spanned some five decades.
While he was credited with 3,243 "official" wins at his 2001 Canadian Hall of Fame induction, it was noted that he racked up numerous other wins in the days prior to computerized statistics being made available.
Dave was described by those in the industry as the "complete horseman." He took up driving full time in 1959. His career as a trainer/driver took off in the 1960s when given the opportunity to operate the stable of prominent horse owner Eric Whebby. The owner-trainer combination enjoy many successful campaigns, especially with a horse named Waveore.
Waveore established track marks at numerous Maritime race centres, including the 1985 $50,000 Monctonian over the 5/8th-mile Champlain Raceway oval where Pinkney and Waveore paced a 1:54.2 time, the first sub 1:55 mile run in the Atlantic Provinces. The two also established a 1:56 track record at the Charlottetown Driving Park.
Pinkney's career winnings of more than $2.4 million is modest by today's standard but considered impressive for the era and in the venues where he raced.
In addition to his horse-racing accomplishments, Pinkney also served four years as a director of the United States Trotting Association.
Among the highlights of his racing career includes establishing records at 10 Maritime tracks; earning seven Maritime driving championships including five at Sackville Downs; the first driver to win more than $1 million on Maritime tracks.
While continuing to race a reduced schedule, Pinkney still enjoys reining winners. A recent string of seven victories in eight races included a visit to the winner's circle following a race against other reinsmen from Sackville Downs.