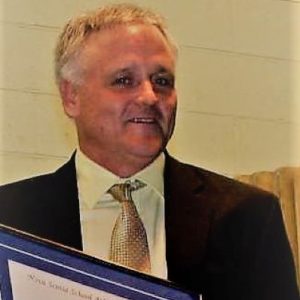 Darrell Dempster
- 2023 -
Builder - Athlete - Coach - Multiple Sports
Darrell Dempster athlete, coach, teacher and builder of a variety of sports at the local, regional, provincial, national and international levels.
As an athlete Darrell played high school soccer, hockey and athletics at Sackville High. A NS High School Champion in athletics and soccer. A member of the SHS Intermediate Boys 4×100 m relay team which set a NS record in 1977; a record that is still standing. At university Darrell was member of the Acadia Football team that won the CIS Vanier Cup twice in 1979 and 1981. Due to the teams achievement Darrell is an inductee in the Acadia and Nova Scotia Sport Hall of Fames.
In athletics coaching Darrell was the Head Coach of the N.S. Canada Games Team – 1993 and 1997; Sprint Coach N.S. Canada Games Team, 1985 and 1989; Sprint Coach, Canadian Junior Track Team, World Junior Championships, 1988 and an assistant at the Pan American Junior Championships, 1986. He was Provincial Sprint/Hurdle Coach in N.S. from 1985 to 1997.
In school Darrell coached athletics, badminton, cross country running, hockey, soccer, touch football and wrestling; winning N.S. championships in athletics and wrestling.
In regard to administration of sport, Darrell was Executive Director, N.S. School Athletic Federation from 2010-2016. From 1985 to 2009 he served as an Assistant and Regional Director along with being a Jr. High Coordinator and N.S. Meet Director in athletics and wrestling. Also served on the N.S.Mission Staff Liason for Athletics/Wrestling at the 2009 Canada Games.
Darrell received School Sport Canada Award of Merit in 2016, was N.S. Amateur Coach of the Year in 1989 and Runner-up in 1998.
"I have had the the good fortune of being surrounded by caring and supportive people both in the past and now! Special thanks to Cheryl, our family, Harold Fleiger – Chatham Jr. High, Don MacVicar – Sackville High, John Huard – Acadia and Doug Mitchell – Athletics."