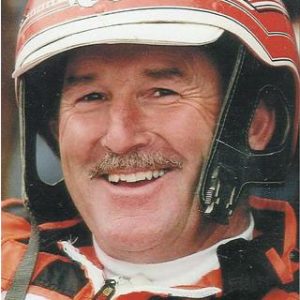 Daniel J. Romo
- 2014 -
Athlete - Horse Racing
To achieve 3500 victories in any professional sporting activity is a fantastic milestone, and that is what Hall of Fame inductee Danny Romo accomplished in June of 2012, with his 3500th harness-racing victory. The fact that this milestone occurred after 41 years of competition in this sport is further evidence of Danny's credentials for admission to the Sackville Sports Hall of Fame.
Danny's first driving victory came at Sackville Downs in 1971, when he was only 19 years old. Since then he has continued to compete at all levels of the sport, from local to provincial, from regional to international.
During this time he has reached several milestones. We can only highlight a few here, and we hope this does some justice to Danny's career. In 1986, at the time of the closure of Sackville Downs, Danny was the leading race-winner, and he had also established a Maritime Track Record time of 2:05 2/5ths with 2-year old colt Aarons Blazer.
He had also driven Duke Bullet to a win at the Rainbow Haven Race, helping to raise $3000 for their charity.
Danny continued his driving in Truro, and has won numerous Atlantic Sire Stakes and Nova Scotia Sires Stakes. He is also a trainer, and has trained and driven champions like El Perfecto and Hornby Blaze, among many.
One achievement to be highlighted here is Danny's success with Firms Phantom, with whom he tied a record owned by Cam Fella of 28 wins in a row. As of this writing Danny's record stands at 3571 victories (his North American total), most of which were won right here in the Maritimes. He has also been the driver of 4 Maritime Horses of the Year.
We are pleased to welcome Daniel Romo into the athlete category of the Sackville Sports Hall of Fame.