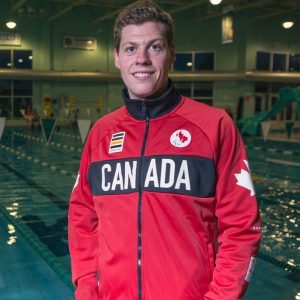 Danial Murphy
- 2021 -
Athlete - Swimming
Danial Murphy is a Canadian Paralympic Swimmer in the S5 World Para Swimming classification. He began his swimming career in his hometown of Bedford, Nova Scotia on a summer swimming program for able bodied swimmers as an eight year old. At that time Para Swimming was not as well organized World Wide as it is today.
Within a couple of years Danial was identified by his life long Coach Mr. Kevin Ross who believed there may be an opportunity for Danial on the National scene and beyond. Danial joined Kevin as a member of the Sackville Waves Aquatic Team. By 2006 Danial competed in his first International competition at a Can Am Series meet. It was the beginning of an active swimming career on the World Scene!
Danial and Kevin were both strong advocates for the Paralympic movement and by 2012 the Sackvilles Waves Aquatic Team gained distinction as the largest integrated ( able and para ) swim team in Canada.
To date his accomplishments include the following…
2008 Olympic / Paralympic Trials for Beijing
2009 Selection to Canada Games in Charlottetown, PEI.
2009 Selection to Team Canada Short Course World Championships in Brazil.
2010 Selection to Team Canada Long Course World Championships in Eindhoven, NL.
2011 Selection to Team Canada for Para Pan Am, Edmonton.
2012 Olympic / Paralympic Trial for London.
2013 Selection to World Championships Montreal.
2014 Selection to Team Canada Para Pan Pacs, California.
2015 World Championships in Scotland.
2015 Para Pan Am Games in Toronto. Bronze Medalist.
2016 Paralympic Games Rio, Brazil. Holder of 70 Canadian S5 records.