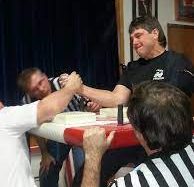 Chris Scott
- 2023 -
Athlete - Arm Wrestling
Resides in Sackville Nova Scotia, Competing since 1989, a total of 34 years.
Arm Wrestling started for me in 1990. After work At Checkpoint Pontiac in Lower Sackville, a co-worker by the name of Lee Theriault organized an after work Arm Wrestling Tournament between the body shop and mechanic shop. The weight classes were over 200 pounds and under 200 pounds; there would be a championship match with the two winners. I won the over 200 and Lee won the under 200. With this, Lee introduced me to the sport of Arm Wrestling,
I took Lee on and at 150 pounds he handed me my ego on a Silver Platter. I couldn't accept it and we set up again, I was sure I missed the go, when he pinned me a second time I knew there was more to arm wrestling than I first thought . Being competitive by nature I decided to give it a try and soon realized it was a sport I would enjoy. In the beginning there wasn't a lot of wins for me being just over 200 pounds I was arm wrestling in the heaviest class with larger stronger competitors. This forced me to develop my skills to be able to compete.
After that I went on to win one Nova Scotia Championship, two Atlantic Canadian Championships and six Canadian Championships. I went on to win one World Silver (2003 Masters) Championship and one World Gold (2019 Grand Masters) Championship, going undefeated.
I was awarded the first ever Sylvio Bourque Memorial award in 2022, after Sylvio passed away in 2021. Sylvio was very passionate about arm wrestling and is the most decorated Canadian of all time at the World Arm Wrestling Federation Championships with 26 medals.
In 2022 I was inducted into the Nova Scotia Arm Wrestling Hall of Fame.
I continue to compete and will do so as long as there are age categories.