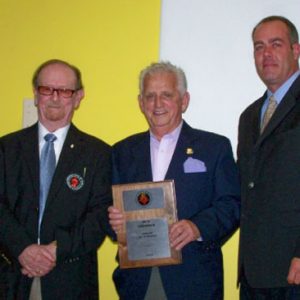 Bud Bremner
- 2012 -
Builder - Football
His given name is Reg, but family, friends, colleagues and acquaintances would be hard-pressed to know Bud Bremner by any other name.
Bud's been coaching minor league football at the bantam and peewee levels in the Sackville-Bedford area since 1969 and through the years has become a legend of the game to those who know him best.
Bud himself combined his day-to-day work as a chef with his love for football to rack up a number of achievements both on and off the field. His young teams won 14 provincial titles between 1976 and 2009.
The Bremner Cup was established in the 1990s, pitting Bedford's CP Allen against Sackville in an annual high school bowl game.
He was appointed Honourary Marshall by Football Canada when the Canada Cup was staged in Halifax in 1999. He was also the first season ticket holder for the fledgling Halifax Schooners in their failed 1980s bid to put a team in the Canadian Football League.
Respect for his knowledge and his abilities to communicate with those around him has earned him a permanent place in the community with a football field being renamed the Bud Bremner Field.
On the culinary side, Bud was name Chef of the Year in Canada in 1995 and in 2004 toured Africa as part of the World Cooks for Hunger.