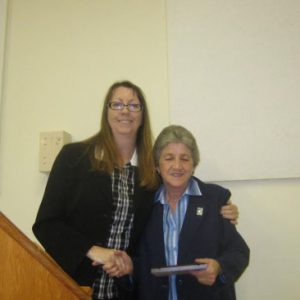 Barbara Ann Slaunwhite
- 2009 -
Builder - Figure Skating
Barb Slaunwhite needed little prodding when asked in 1995 to volunteer one day a week to the Sackville Skating Club for the CanSkate Program at Sackville Sport Stadium. The rest, as they say, is history.
The following week she began volunteering two days a week. The third week her volunteerism became a daily part of her life.
Her patience and understanding with children in the CanSkate program didn't go unnoticed. So when Stadium management asked that Barb devote some of her volunteer time to the public skating program at the arena. She took on that assignment with the same zeal.
She would eventually moved into the administrative ranks of the figure skating club and subsequently, with the executive board, orchestrated during her 10-year tenure as president a turnaround in club fortunes that took it from near bankruptcy to being the largest fully-funded CanSkate program in Nova Scotia.
Barb is deserving of her induction as her volunteerism extends far beyond her local participation. She's been Skate Canada's nomination for Volunteer of the Year in Nova Scotia. Her involvement includes volunteering at Skate Canada competitions; at championships sponsored by the world governing body, the International Skating Union; the Challenge Cup of Nova Scotia and, for the last decade, at the NS junior figure skating championships.