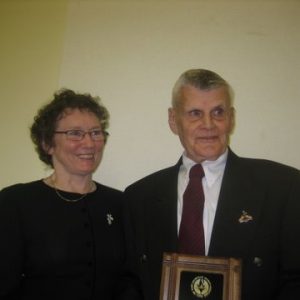 Alison Arsenault
- 2003 -
Builder - Boxing
A teen-age crush with amateur boxing blossomed into a full time love affair.
Alison got a taste of what was to come at her Amherst, N.S., high school while watching classmates hone their skills sin conventional basement gym environments in preparation for local fight cards.
A career in nursing and a husband later, Alison still is comfortable around sweaty gyms while just as easily mix with the elite of the world amateur boxing community.
Several years after taking up residence in Sackville in the late 1960s, Alison met future husband, Bill, an aspiring boxing official. Accompanying him to amateur boxing cards around the Maritimes often ended in stimulating discussions that led to her first assignments – scoring bouts.
Her increasing popularity led to officiating assignments throughout the Atlantic provinces and her subsequent learning process enabled her to achieve a level of judging accorded few women in a predominantly male bastion.
Alison overcame seeming resistance within the Canadian boxing hierarchy to earn her Level IV license, allowing her to judge at major Canadian competitions. When the international body opened its doors to women officials, Alison was one of the first women recommended to text for a Level V card. She was one of four women worldwide – two from Nova Scotia – to achieve that level of excellence
She's earned her stripes on the international stage, officiating at competitions with boxers from France, Scotland, Mexico, England, Ireland, Russia, Germany, Finland, Sweden and Italy and represented Canada at the 2000 women's World Cup in Turku, Finland.
Alison has continued working at the ground roots for amateur boxing in Nova Scotia where she's been registrar for Boxing Nova Scotia all but two years since 1976, served as BNS's chief official, has been a Vice-President of BNS for 22 years and is the longest-serving member of the amateur body's executive board.
Her latest project is introducing a computerized scoring system at clinics throughout the province.