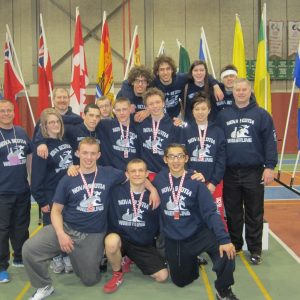 2013 Sackville Mens Wrestling U19 Team
- 2021 -
Team - Wrestling
Sackville Wrestling Club – Canadian Amateur Wrestling Association 2013 Men's U19 National Team Champions- Greco Roman Division – Saskatoon, Saskatchewan
Front row: Matthew Short ( Bronze Medal- Greco), Gabe Benavent ( Bronze Medal – Greco), Jose Alonzo ( Bronze Medal – Greco).
Middle row: Kim Walsh (coach of Windsor Mat Kings Wrestling Club), Kaitlynn Shreenan, Brad MacPherson, Ryan MacGregor (Silver Medal – Greco), Ben Lengkeek ( Silver Medal – Greco), Jada Reid (Bronze Meda l- Freestyle), Mike Lidstone (coach).
Back Row: Jess Wiseman (coach), Jason Bayer, Jack Andrew, Michael Andrew, Larissa Reese, Jacob Givner (Windsor Mat Kings Wrestling Club).
The 2013 Men's Sackville Wrestling Club team accomplished a feat never done by a Nova Scotia wrestling team – they won a team championship in Greco – Roman wrestling at the National Championships in Saskatoon, Saskatchewan.
This team consisted of an exceptional  group of wrestlers who exhibited an unparalleled level of dedication, hard work and incredibly strong comradeship to push one another daily at their high school practices and at their club practices at the Sackville Sports Stadium.
The entire team was successful regionally at the NSSAF championships, Nova Scotia Open and Atlantic Championships – 2013 Juvenile Boys (U19) Atlantic Canadian Male Team Champions – Freestyle Division. Their success continued at the 2013 National Championships in Saskatchewan with a win that shocked many provinces.