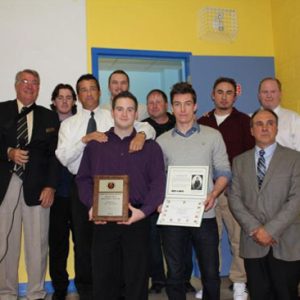 2011 – 2012 Millwood Knights
- 2013 -
Team - Hockey
Millwood has a long history of success in local and provincial high school hockey.
The 2011-12 team set itself apart from the others, however, by sweeping the Metro and Nova Scotia titles and six tournaments the team entered that year, including the prestigious Moncton High School Hockey Classic.
The Knights were the first non-New Brunswick team in 20 years to win the Classic.
It was a banner year for a Larry Marchand-coached team, many of which had enjoyed past successes.
The Knights, en route to their Hall-of-Fame 2011-12 season, won:
The Metro High School Athletic Association championship
Capital Region Division 1 championship
The Nova Scotia Secondary School Athletic Federation Division 1 championship
The Dr. J.H. Gillis Millennium Cup tournament
The City of Lakes (Dartmouth) high school tournament
The Moncton High School Classic Division 1 tournament