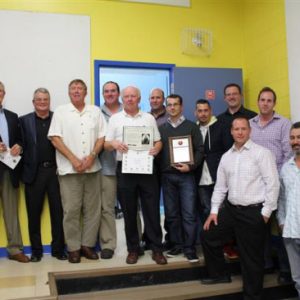 1992 – 1993 Sackville High School Kingfishers
- 2013 -
Team - Hockey
It's been 20 years, but for those members of the Sackville Kingfishers high team that swept most of the secondary school hockey hardware in the province in 1992-93, it's a moment in time.
The Kingfishers entered the campaign with a strong nucleus of 14 seniors and capped a successful season with the provincial championship played at Cole Harbour Place, a tournament that included two from the Valley and Cape Breton leagues and several from the Metro area.
Experience played a key role in the final, a 5-2 victory over West Kings, with veterans providing leadership roles on the specialty teams.
The title for the three-man coaching staff — Ken Strugnel, John Phillips and Gary Cuming – was Sackville's only Provincial AAA championship.
Manager Tom Wood handled the administration side.
During the year, the Kingfishers enjoyed outstanding successes away from home, winning the West Kings and Acadia Invitational tournaments in addition to competing against prep schools in the Boston area.
Trevor Chambers and Trevor Elliott shared the goaltending that championship season while the blueline was anchored by Adam Brown, Jamie Brown, Scott MacDonald, Scott Sim and Blair Were.
The forward lines were made up of Rob Boutilier, Mike Burns, Thayer Doyle, Trevor Doyle, Dean Evong, Kris Marcotte, Ryan McKegney, Jason Mitchell, Trevor Saunders, Don Smith and Kevin Whynott.