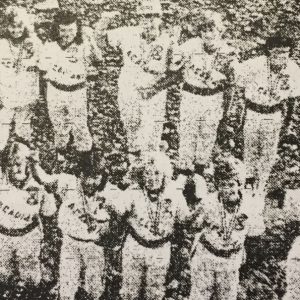 1983 Sackville Acadian Girls Softball
- 2007 -
Team - Softball
The Sackville Acadians girls' softball team, first organized in 1983, was destined from the start for the Sackville Sports Hall of Fame.
That 1983 pee wee team that is being inducted tonight by the Sackville Sports Heritage Foundations is being honoured as the cornerstone to what was to become a Sackville sporting dynasty.
That first-year squad, put together by co-coaches Wally Cleveland and Bill Bonn, swept the regional and provincial pee wee titles en route to the Eastern Canadian playoff final.
It was to be a familiar story over the next four years where the Cleveland/Bonn – coached clubs – including two teams in 1985 where the organization evolved into the bantam-aged Sackville Flames – blazed their way to regional, provincial and Eastern Canadian titles.
It was such a closely knit organization that only 28 girls in total played for Acadians-Flames teams during their four-year championship run, reaping five provincial titles and four Eastern Canadian championships, including both age classes at the 1985 provincial and Atlantic tournaments.
Their overall won-lost record in provincial playoffs was 19-1 while they were 19-5 in Eastern Canadian action.
The Acadians-Flames teams were probably the most dominant softball team ever to perform in Sackville colours on the provincial stage and in the eyes of many supporters were the most successful team to represent the region in any sport.
In 1985, as the team underwent a change of personnel due to age restrictions, the girls played together through the season in the Sackville and District Women's League before breaking up into two squads in order to qualify for provincial playoffs in two age categories.
The 1986 team tuned up for the provincial playdowns by competing during the season in the tough Nova Scotia Senior Women's League that included the defending Eastern Canadian champions and the junior and senior teams that represented the province in national playoffs. They won four tournaments that year.