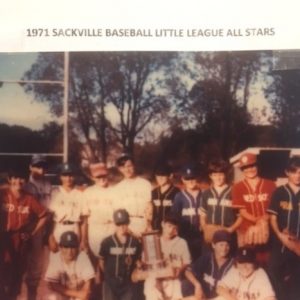 1971 Sackville Baseball Little League All-Stars
- 2021 -
Team - Baseball
Players – Front Row (Left to right): Randy Pulisfer, Jimmy Jenner, David Wiseman, Doug Nickerson, Charlie Clarke. Back Row: (Left to Right): John Keizer, Eddie Peverill, Larry Woodland, Fred Williams, Thayer Maxwell, Steve Lane, Mike Fredericks, Steve Williams, Darrell Jessome, Chris Scott, Reggie Oakes, Billy MacLellan. Injured: Gary Erskine
Coaching Staff – Hugh Wiseman, Wally Lemon, Frank Symington, Tom Kelly, Les Mayo, Harold Lane.
In 1970, Sackville sent an All-Star team to the prestigious Amherst Invitational Little League Baseball Tournament where top teams from both New Brunswick and Nova Scotia competed.  Expectations were non-existent because tournaments and road games just didn't exist back then for Sackville teams.
The 1970 team proceeded to get soundly trounced 19-2 and 21-3 by their superior opposition and returned home quite humbled. Despite the results, it was an incredible experience for Sackville players to play on Amherst's perfectly manicured field with "real" dug outs, a public address announcer and to compete against top competition, too.
The following year (1971) under the watchful eye of a dedicated coaching staff, a month-long tryout camp took place. The team that arrived to Landry Field on  Friday September 3rd, 1971 was much better prepared. Expectations, however, were no more certain than they were the previous year. The pre-tournament favourites were Amherst and Truro. The Sackville team went undefeated during the round robin by defeating Coverdale, N.B. and Joggins, N.S. Truro also went undefeated.
This set up a Labor Day Monday final between Sackville and Truro. The heavily favoured Truro squad was led by their star pitcher Junior Jackson whilst Sackville handed the ball to team captain David Wiseman. In the end, Truro was no match for the unheralded Sackville squad. Sackville out-pitched, out-hit and out-fielded the Truro club and soundly dominated them by a final score of 9-0! Sackville played near flawless baseball and the score was indicative of their superior preparation and skill level. The team "retired" undefeated on Monday, September 6th, 1971.
The 1971 Sackville Little League All-Stars – "clutch" when it counted most and were trailblazers for all of the Sackville "travel" teams that followed.
"Win today and walk together forever!"