Nominations Due September 30, 2021
The Sackville Sports Heritage Hall of Fame Society was pleased to announce in March the 2021 Inductees into the Sackville Sports Heritage Hall of Fame. The inductees from top left and across : Athletes – Daniel Murphy – Swimming, Rick Pinkney – Arm Wrestling, Builder – Bill MacDonald – Hockey, Baseball, Recreation, Builder/Coach – Rob Morgan – Football, Coach – Kevin Ross – Swimming, Official – Stephen Lane – Track and Field, Teams – 1971 Sackville Baseball Little League All Stars, 2013 Sackville Mens U19 Wrestling.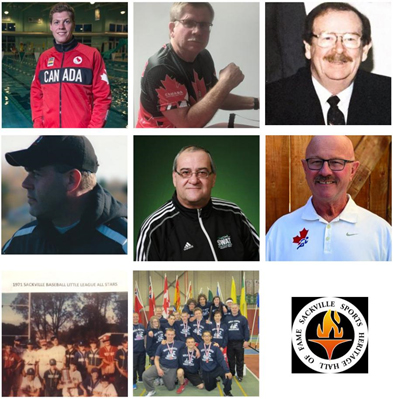 The Hall of Fame is seeking nominations for the next Induction Event to be held in 2022. The deadline for nominations is September 30th, 2021.
On the link below you will find the rules for election and the nomination form. https://sackvillesportshalloffame.org/nominate/. If you have questions please contact President – Darrell Dempster at 902-476-0633. For more information please look through our website.