Hall of Fame Inductees
---
Below is a list of all our inductees. You can narrow the list to a specific year by choosing one of the dropdown options below.
( * by an inductee's name indicates deceased)
Choose A Year:
---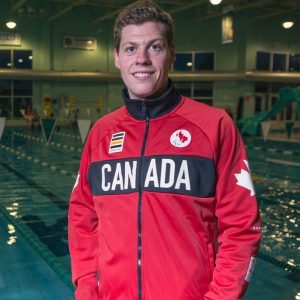 Danial Murphy
- 2021 -
Athlete - Swimming
Danial Murphy is a Canadian Paralympic Swimmer in the S5 World Para Swimming classification. He began his swimming career in his hometown of Bedford, Nova Scotia on a summer swimming program for able bodied swimmers as an eight year old. At that time Para Swimming was not as well organized World Wide as it is today.
Within a couple of years Danial was identified by his life long Coach Mr. Kevin Ross who believed there may be an opportunity for Danial on the National scene and beyond. Danial joined Kevin as a member of the Sackville Waves Aquatic Team. By 2006 Danial competed in his first International competition at a Can Am Series meet. It was the beginning of an active swimming career on the World Scene!
Danial and Kevin were both strong advocates for the Paralympic movement and by 2012 the Sackvilles Waves Aquatic Team gained distinction as the largest integrated ( able and para ) swim team in Canada.
To date his accomplishments include the following…
2008 Olympic / Paralympic Trials for Beijing
2009 Selection to Canada Games in Charlottetown, PEI.
2009 Selection to Team Canada Short Course World Championships in Brazil.
2010 Selection to Team Canada Long Course World Championships in Eindhoven, NL.
2011 Selection to Team Canada for Para Pan Am, Edmonton.
2012 Olympic / Paralympic Trial for London.
2013 Selection to World Championships Montreal.
2014 Selection to Team Canada Para Pan Pacs, California.
2015 World Championships in Scotland.
2015 Para Pan Am Games in Toronto. Bronze Medalist.
2016 Paralympic Games Rio, Brazil. Holder of 70 Canadian S5 records.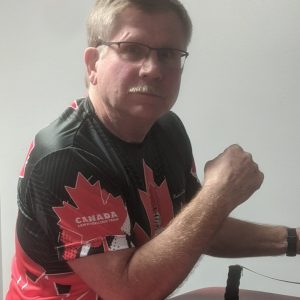 Rick Pinkney
- 2021 -
Athlete - Arm Wrestling
Rick Pinkney took up arm wrestling in 1980 while working in Alberta. Alberta was the hot spot in Canada for Arm Wrestling and as a result had the opportunity to train with the best in the country.
Rick won his first National title in 1982 and then went on to pick up a Silver medal at the World Championships in Syracuse, NY.
Rick moved back to Nova Scotia in 1984 and started the Nova Scotia Arm Wrestling Association. Over the next 20 years Pinkney picked up 13 Provincial titles in 5 different weight categories. He also won the Atlantic Canadian Championships 6 times and added 4 more National titles, with the last coming in 2005.
In 1994 Rick held the Canadian Championships in Halifax. This was the first time it was held east of Quebec. He hosted them again in 2017.
Rick's next Canadian title would elude him until he won in 199 in Kelowna, BC. Then in 1998 Rick took a Silver at the Canadian Nationals and he picked up a Silver medal at the World Championships in Thunder Bay, Ontario, finishing behind long time rival, Canadian Michael Barrett.
Rick was also heavily involved in developing referee training in Canada and throughout the World. He was appointed Referee-in- Chief of Canada in 1992. He received his Masters in Refereeing for Canada in 1994 and for the World Federation in 2002.
Rick has refereed every World Championship since 2002.  He is also a Master Referee for the International Federation of Arm Wrestling and the Professional Arm Wrestling League and sits on the Referee Panel for both organizations.
Rick has been President of the Nova Scotia Arm Wrestling Association since it's inception in 1985.   In 2014 Pinkney stepped down as Referee-in-Chief of the Canadian Arm Wrestling Federation to become President of the Federation.
Rick is also a coach for the Sackville Warriors Arm Wrestling Team. He was inducted into the Canadian Arm Wrestling Hall of Fame in 2009 and the Nova Scotia Arm Wrestling Hall of Fame in 2015.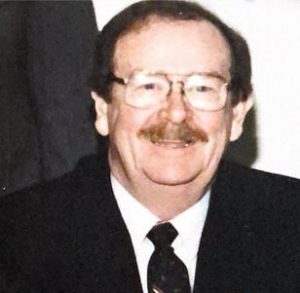 Bill MacDonald
- 2021 -
Builder - Hockey, Baseball, Recreation
Bill MacDonald was asked to get involved in minor hockey in the early seventies and a team was formed with children from Sackville and Beaver Bank. At that time he rented ice from Windsor rink, driving the children with Ron Helfer's old panel truck and other cars for that period, until due to demand, an old school bus was purchased. With much discussion, within the community the decision was made that our area needed a local recreation center and Lake District Recreation Association (LDRA) was formed. The Sackville Arena was built where children could now play hockey within their own community.
Bill then coached hockey for many years and worked on committees with LDRA to further develop other recreational activities needed for the district.
Bill worked with Les Mayo, Bill LaRue and Harold Lane to develop Bantam baseball and start a leaguein Sackville. It started in 1970's and Bill was involved with coaching as well.
Bill MacDonald was a volunteer and committed member of many associations of our community including:
Founding member of Lake District Recreation Association, Life time member Springfield Lakes Recreation Center.
Member of Sackville Lions Club.
Founding member of Sackville Blazers Junior Hockey Club.
Founding member of Sackville Sports Hall of Fame with serving 16 years as President.
Volunteered and served as chief judge with Sackville Winter Carnival.
Presented Sackville Volunteer of the Year 2008.
Bill also volunteered with many groups from Seniors' nursing homes to schools helping form the Progress Club of Sackville and the local Toast Masters. While in business Bill made many contributions to support to young peoples' organizations and seniors' groups.
In Bill's political life, his involvement helped in obtaining over a million dollars in government grants for numerous organizations in Sackville and surrounding areas. These include the Landfill residents' compensation package in the amount of five million dollars and one million for the Sackville Sports Stadium. Bill was instrumental in the construction of many ball fields and playgrounds in our surrounding Sackville, Beaver Bank and Lucasville areas.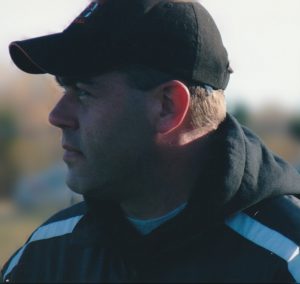 Rob Morgan
- 2021 -
Builder - Coach - Football
Rob "Coach" Morgan has been a fixture in the Sackville football community for over 40 years. His involvement began as a player with Bedford Sackville minor in the early 80's. He went on to play at St. Pat's, becoming  a perennial all-star before  finishing his playing career at Acadia University. His accomplishments as a player pale in comparison to the impact he has made on football in the community and the hundreds of young men and women he has coached.
Coach Morgan spent nearly three decades at Sackville High; first as an assistant then as Head  Coach. His commitment and passion is evidenced by the five High school Provincial titles under his leadership. He was  also a founder and five time Champion Head Coach in the NS Varsity Football league in addition to volunteering with flag and tackle in minor.
The impact he's had as a mentor spread well beyond the community, reaching the  Provincial, National and International stage. He spent six seasons with NS Provincial teams at the National Championships and was the only Nova Scotian to coach the U15 Canadian team at the US Army All American Bowl in Texas.  In 2010 Rob was named a finalist for the  NFL Youth Coach of the Year.
Foremost among-st his accomplishments however, has been inspiring generations to continue on his path and give back to the sport and community they love. Numerous former players and assistant coaches have gone on to Coach at the minor, High School , Provincial, National and University level.
"The success of a young football player isn't measured by the wins and losses. The sport teaches well beyond the X's and O's. Football develops character and prepares a player for real life. Hard work, sacrifice, dedication, teamwork,  overcoming challenges, these are all things we do and skills we need every day.
If I've prepared a player to be successful off the field, that's been my biggest accomplishment."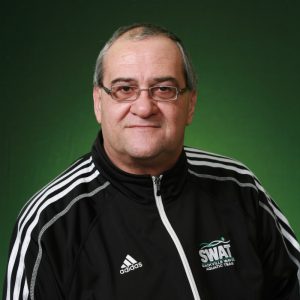 Kevin Ross
- 2021 -
Athlete - Coach - Swimming
"Dare to Be Awesome!" the slogan Kevin Ross imparted upon all of his swimmers.
If you have been by the pool at the Sackville Sports Stadium anytime over the past 24 years, there's a good chance you saw Kevin on the pool deck.
Kevin started his coaching career as a coach for both Dartmouth and Halifax. In February of 1997 he was asked to coach both the Master's program at the Sackville Sports Stadium as well as Sackville Waves Aquatic Team where he would act as the teams' head coach for the next 20 years.
Over that time Kevin helped turn thousands of youngsters into great swimmers. Even more importantly he hoped to have a part in turning them into better citizens. He knew when to be hard on the swimmers and when to take it easy on them. He never forgot that swimming was supposed to be "fun" and made sure everyone had just that.
He also knew that swimming was extremely important to many and his goal was to provide a program for all individuals to be challenged to do their best.
Over the next two decades Kevin became a world class coach. He became one of the leading Para swimming coaches in the country coaching on several national teams. He coached swimmers to Olympic Trials, Para Pan Am Games, Para World Championships and even the pinnacle of accomplishments when Daniel Murphy competed at the 2016 Paralympic Games in Rio.
Accomplishments:
Manager 2001 N.S. Canada Games Team
Coach International Children's Games in 2004, 2006, 2008, 2009, 2011, 2012 and 2013 – Coach 2005 N.S. Canada Games Team
Coach 2009 Para World Short Course Championships, Rio
Coach 2013 Para World Championships, Montreal
Coach 2015 Para Pan Am Games, Toronto
Won N.S. Para Coach of the Year 5 times
Won the Swim N.S. President's Award in 2015
Coached 2017 World Masters Championships (Gold medal)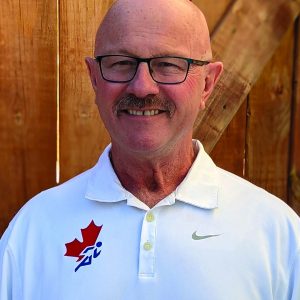 Stephen Lane
- 2021 -
Athlete - Official - Track and Field
Stephen Lane has been a pillar of the Sackville sports community for decades. Most notably, Stephen has been recognized as one of the top Track and Field officials in the country. Stephen, an accomplished athlete, has selflessly dedicated his time and talents to the community through coaching, volunteering and officiating.
Growing up in a large family of athletes, it did not take long for Stephen to jump in with both feet. From the time he was a young child until well into his retirement, Stephen has been promoting and encouraging people of all ages and abilities to engage in sports.
Stephen began officiating Track and Field in 1980 when he was only 21 years old. Through his dedication and determination, he was qualified as a Level 5 Official, the highest level that can be attained in the sport.
During this time, Stephen played Football for Saint Mary's University, holding the distinction of being the first player from Sackville High School to play for the University. He received a Letter of Merit and the Alumni Award for his involvement.
Over the years Stephen was invited to officiate at hundreds of track and field meets including numerous local, Provincial, Regional, International and World championships, World University Games, Pan-American Wheelchair Games, 4 Olympic trials, 3 Canada Games, 2 World Junior's, 10 National Championships, 8 Highland Games, Atlantic Indoor Championships and the North American, Central American and Caribbean World Masters Athletics Championships. He officiated for the Nova Scotia Special Olympics for 21 years and spent several years as Vice Chairman of Technical and Rules for the National Officials Committee.
Stephen has been the recipient of multiple awards for his community involvement including the Nova Scotia Track Official of the Year. His contribution to the community has been immeasurable. Through more than 5 decades of involvement in the sports community, Stephen has been a role model and an inspiration for us all.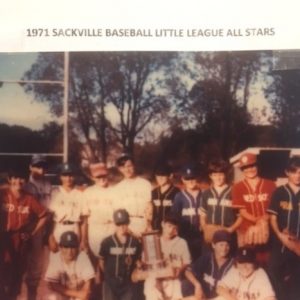 1971 Sackville Baseball Little League All-Stars
- 2021 -
Team - Baseball
Players – Front Row (Left to right): Randy Pulisfer, Jimmy Jenner, David Wiseman, Doug Nickerson, Charlie Clarke. Back Row: (Left to Right): John Keizer, Eddie Peverill, Larry Woodland, Fred Williams, Thayer Maxwell, Steve Lane, Mike Fredericks, Steve Williams, Darrell Jessome, Chris Scott, Reggie Oakes, Billy MacLellan. Injured: Gary Erskine
Coaching Staff – Hugh Wiseman, Wally Lemon, Frank Symington, Tom Kelly, Les Mayo, Harold Lane.
In 1970, Sackville sent an All-Star team to the prestigious Amherst Invitational Little League Baseball Tournament where top teams from both New Brunswick and Nova Scotia competed.  Expectations were non-existent because tournaments and road games just didn't exist back then for Sackville teams.
The 1970 team proceeded to get soundly trounced 19-2 and 21-3 by their superior opposition and returned home quite humbled. Despite the results, it was an incredible experience for Sackville players to play on Amherst's perfectly manicured field with "real" dug outs, a public address announcer and to compete against top competition, too.
The following year (1971) under the watchful eye of a dedicated coaching staff, a month-long tryout camp took place. The team that arrived to Landry Field on  Friday September 3rd, 1971 was much better prepared. Expectations, however, were no more certain than they were the previous year. The pre-tournament favourites were Amherst and Truro. The Sackville team went undefeated during the round robin by defeating Coverdale, N.B. and Joggins, N.S. Truro also went undefeated.
This set up a Labor Day Monday final between Sackville and Truro. The heavily favoured Truro squad was led by their star pitcher Junior Jackson whilst Sackville handed the ball to team captain David Wiseman. In the end, Truro was no match for the unheralded Sackville squad. Sackville out-pitched, out-hit and out-fielded the Truro club and soundly dominated them by a final score of 9-0! Sackville played near flawless baseball and the score was indicative of their superior preparation and skill level. The team "retired" undefeated on Monday, September 6th, 1971.
The 1971 Sackville Little League All-Stars – "clutch" when it counted most and were trailblazers for all of the Sackville "travel" teams that followed.
"Win today and walk together forever!"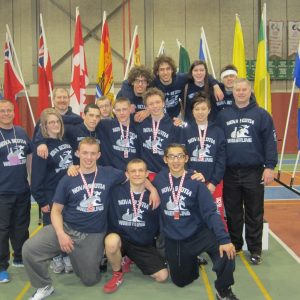 2013 Sackville Mens Wrestling U19 Team
- 2021 -
Team - Wrestling
Sackville Wrestling Club – Canadian Amateur Wrestling Association 2013 Men's U19 National Team Champions- Greco Roman Division – Saskatoon, Saskatchewan
Front row: Matthew Short ( Bronze Medal- Greco), Gabe Benavent ( Bronze Medal – Greco), Jose Alonzo ( Bronze Medal – Greco).
Middle row: Kim Walsh (coach of Windsor Mat Kings Wrestling Club), Kaitlynn Shreenan, Brad MacPherson, Ryan MacGregor (Silver Medal – Greco), Ben Lengkeek ( Silver Medal – Greco), Jada Reid (Bronze Meda l- Freestyle), Mike Lidstone (coach).
Back Row: Jess Wiseman (coach), Jason Bayer, Jack Andrew, Michael Andrew, Larissa Reese, Jacob Givner (Windsor Mat Kings Wrestling Club).
The 2013 Men's Sackville Wrestling Club team accomplished a feat never done by a Nova Scotia wrestling team – they won a team championship in Greco – Roman wrestling at the National Championships in Saskatoon, Saskatchewan.
This team consisted of an exceptional  group of wrestlers who exhibited an unparalleled level of dedication, hard work and incredibly strong comradeship to push one another daily at their high school practices and at their club practices at the Sackville Sports Stadium.
The entire team was successful regionally at the NSSAF championships, Nova Scotia Open and Atlantic Championships – 2013 Juvenile Boys (U19) Atlantic Canadian Male Team Champions – Freestyle Division. Their success continued at the 2013 National Championships in Saskatchewan with a win that shocked many provinces.